ATTEND YOUR FIRST EVENT FOR FREE: USE CODE REBELLEGUEST when registering for YOUR FIRST local EVENt.
Panel - The Women in Comedy
Location: The Martin Agency
Mix & Mingle: Holiday Celebration
Location: Private Residence
Tickets coming soon
Workshop - Make 2020 Your Best Year Yet
Location: Dominion Payroll
WELCOME TO THE RICHMOND, VIRGINIA CHAPTER
A club without a clubhouse, the Rebelle Community is an inclusive group of women and gender minorities that gathers in intimate groups at unique venues with the goal of supporting each other in creating our own versions of success.
Our local events are capped at 60 attendees, so that you can easily meet and connect with other members on a human level.
We meet in community spaces, member's homes, offices, airbnbs, and women owned or operated businesses, instead of a hotel conference rooms.
We host three different styles of events:
Panel conversations - women leaders share their stories around a common theme

Workshops - hands on learning in a small group setting

Mix & Mingles - intimate and casual gatherings usually with a theme
SO MUCH MORE THAN A networking group
Yes, you will meet interesting people at our events, people who you don't know, but our goal is to build real relationships with one another, a true community. We encourage you to bring your whole self (not just your work self) in order to experience true connection and learn from one another.
Interested in starting a chapter? Apply here.
Our members are leaders, mothers, daughters, employees, artists, founders, small business owners, educators, transplants, locals, latte lovers, pet owners, introverts, extroverts, and friends.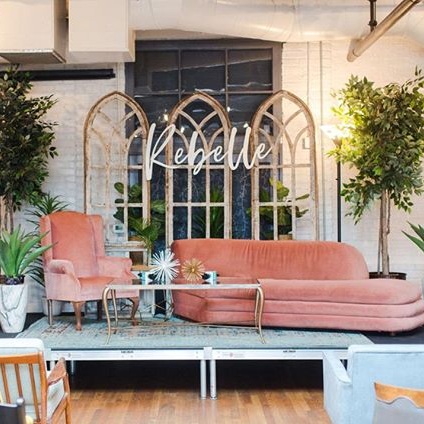 REBELLE CONFERENCE!!
Location: Multiple - Richmond, VA
Panel - The Women In Food
Location: ZZQ
Workshop - Create the Vision
Location: Canvas
Workshop - LinkedIn Like a Fox
Location: The Broad
Workshop - Build Relationships Like A Boss
Location: Novel Coworking
Panel - The Quitters
Location: West Elm
Panel - The Authors
Location: Paisley & Jade
Book Launch - More Than Enough
Location: The House, by Canvas
Spring Conference
Location: Multiple
Mix & Mingle - Thank You Party
Location: Private Residence
Workshop - Financial Planning for Real Life
Location: Work & Friends
Workshop - Slay Like A Mother
Location: Dominion Payroll
Panel - The Women In Retail
Location: Gather Scott's Addition
I am the Richmond chapter host and the Founder of the Rebelle Community and Rebelle Con. If you have any questions about membership, attending events, sponsorship, or volunteering with our chapter, please email me.
I look forward to seeing you at the next Rebelle Community event!
Interested in becoming a chapter host? Hit me up!
FAQs
What do I get for the membership fee?
Our members attend our local chapter events for free (we have 1-3 events per month)

Discounted tickets to our sold out Rebelle Conferences

First access to submit applications to teach workshops and speak at Rebelle Community events and Rebelle Conferences
What if I am not an entrepreneur?
The Rebelle Community is not exclusive to entrepreneurs. Our goal is to build community and connection outside of traditional silos to inspire any and everyone to design a life they love. Expect to meet executives, professionals, freelancers, hobbyists, founders, business owners students, and more.
Do you offer company memberships?
Yes! If you are looking for a way to reward your exceptional employees and better connect to your local community, consider becoming a partner of your local chapter, a sponsorship that includes group memberships. Learn more.
How often do you have events?
We host in-person events one to three times per month. We host events on different days of the month each month, but typically on weekdays in the evening hours from 6-9pm.
What if I am new to town and don't know anyone?
Perfect! Our community is a fantastic place to connect with a community of excited, thoughtful, and welcoming members who will make it their mission to make sure you love it here.
How can I be considered to speak or lead a workshop?
By becoming an active member of our community, we will have the opportunity to get to know you and think of you when we are looking for speakers and facilitators. We do have an application process and give priority to our members.
What if I am not sure this group is for me?
You can attend your first event for free! Use code rebelleguest to attend one local event for free.